Do you remember those word problems in grade school? "All of my flowers except two are roses. All of my flowers except two are tulips. All of my flowers except two are daisies. How many flowers do I have?" You have something you have to figure out, but there are a lot of variables in between you and your solution. That's exactly how I felt about filling out my work-appropriate closet when I got this new job. I needed enough options to make it through a week, but I had a very limited budget and I knew it was going to be super hot. What a conundrum! After a few hits and misses, I've finally found a few summer work outfits that I am super happy and comfortable in, including this one.
These pants are a lightweight, slightly stretchy fabric that is just perfect for summer. They're not too tight, but they're still tight enough to not swallow me. They have the classic work pant metal clasp/button combo to fasten. This particular pair is by a brand called Preston and York and I bought them at Dillards. They aren't available anymore, but I love this similar pair from New Look.
I paired these pants with a simple white V-neck sleeveless top from H&M. I knew I would get a lot of use out of this shirt when I bought it, and it was only $10!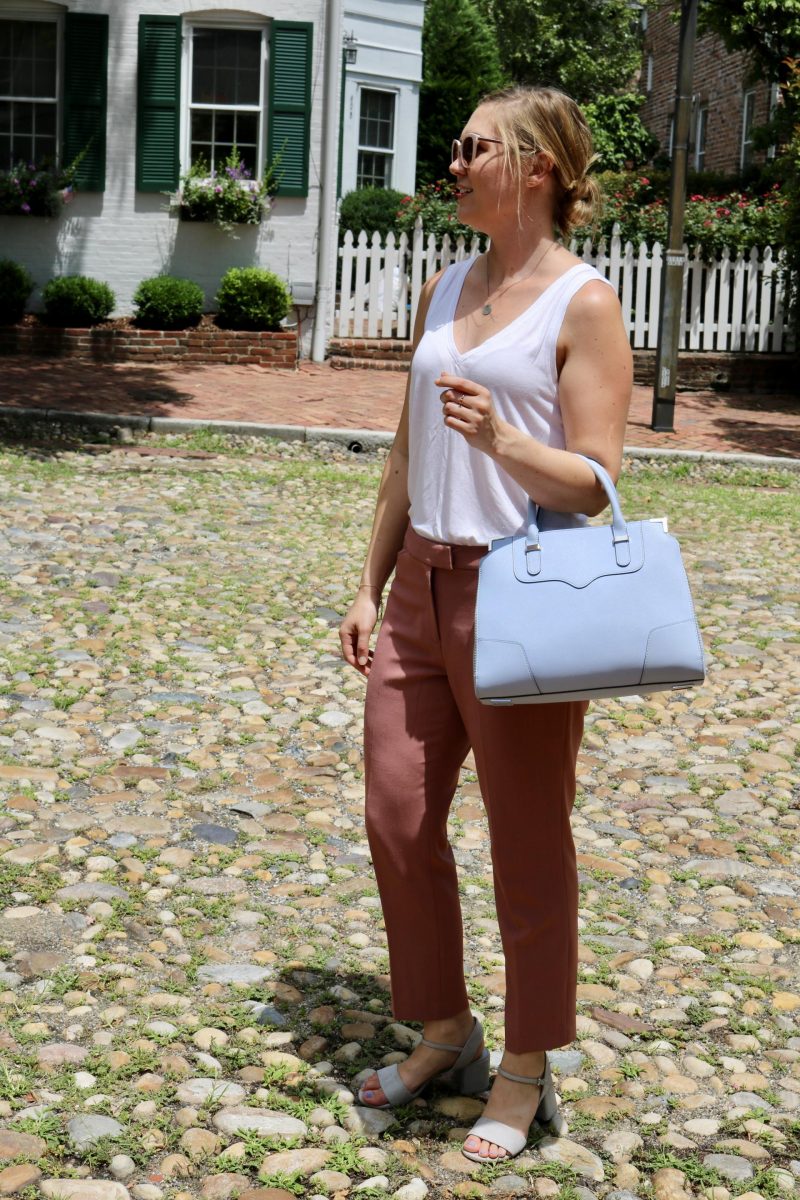 Last but not least, I threw on a pair of block-heel sandals from Zara a few years ago. I am loving the block heel trend- they are so chic, and SO much more comfortable than the traditional stiletto. How did women in the '60s do it?? Again, I can't link these exact ones, but here is a similar pair from Coconuts by Matisse.
Do you like these workwear posts? Let me know and I can throw together a few more!
What are your tips for workwear in the summer?

P.S. The answer to the word problem is three: one rose, one tulip, and one daisy 🙂